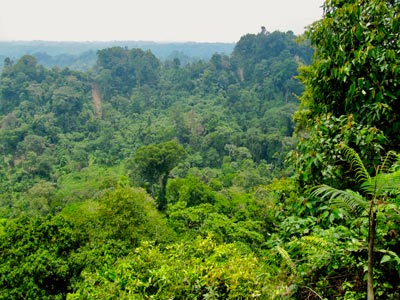 We have news and it's big! Following the cancellation of a logging lease, we've been given the opportunity to protect 39,000 acres of additional tropical rainforest!
This newly safeguarded rainforest now brings the total protected area of Bukit Tigapuluh to over 500,000 acres, helping us secure the essential habitat we so desperately need for Sumatra's Critically Endangered orangutans, tigers and elephants.
It's also a big step towards our mission of safeguarding all important, lowland forests in Indonesia, so we can ultimately secure the survival of the orangutan species.
But right now, this newly protected area, previously leased to a logging company, is still highly vulnerable to poachers and illegal land encroachers, who for too long have been plundering this rich ecosystem for profit - we must act quickly to keep it safe.
To protect 39,000 acres of additional rainforest we urgently need to increase the frequency of our Wildlife Protection patrols, arming our officers with the very latest technologies and anti-poaching techniques. We also need to significantly expand the breadth of their patrols, particularly along the new borders and former logging roads, where illegal logging operations and poachers have had easy access for far too long.
With your help, we're also establishing a powerful new Wildlife Protection and Law Enforcement Unit, to stamp out forest crimes across this whole precious ecosystem and send a strong, united message to encroachers throughout Indonesia that legally protected forests are now off-limits.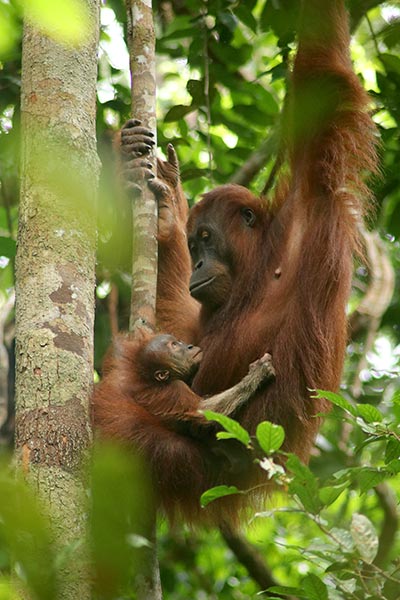 Your gift today will directly help us protect the precious lives that thrive in this remarkable landscape by supporting our Wildlife Protection officers to vigilantly patrol this landscape day and night, untangling snares, stopping poachers and illegal encroachers in their tracks, and supporting local law enforcement to infiltrate and apprehend the perpetrators of forest crimes.
You will also be helping us bring the whole local community into this vital task of securing Indonesia's rapidly shrinking forests, by supporting opportunities to rehabilitate decimated land, learn environmentally-friendly agricultural techniques, and transfer excellent forest skills - once only useful for exploiting the forest - into exceptional wildlife protection and patrol skills, helping us secure this landscape for decades to come!
Your donations will also help us support the continued monitoring of the ex-captive, rehabilitated orangutans like Anjeli, pictured here with her new baby, who are now living wild and free in the Bukit Tigapuluh landscape - and who are part of the critically important 'insurance population' that may one day save the Sumatran orangutan species from extinction.
We urgently need to raise funds to step up our work to safeguard the Bukit Tigapuluh landscape including this newly protected area, vigilantly protect the species who thrive within it and work closely with local communities to make sure this crucial ecosystem - one of Sumatra's last intact tropical rainforests - stays intact for good.
Thank you for giving a generous gift today, and helping us secure one of the last great ecosystems of Sumatra!