We're so proud to announce the prize winners of the 2021 Orang-Artan Competition!
We had such a fantastic time with the Orang-Artan Competition this year and we hope you did too! We received hundreds of extraordinary entries and were blown away with the talent of children from all over the world.
Congratulations to all the young artists and conservationists who sent in their masterpieces - you should feel incredibly proud. Not only have you demonstrated your passion and creativity, but you've also helped to protect orangutans, tigers, elephants and their forest habitat.
This year our theme was 'Wildlife of Sumatra and Borneo' and artworks explored so many species, including orangutans, elephants, tigers, sun bears, pangolins and more. We awarded First, Second and Third prizes in three age categories: 4-6, 7-9 and 10-12. We also awarded two Special Mention Awards in each age category our first ever School Prizes!
To take a look at the video of the Prize Ceremony, click here: https://event.webinarjam.com/replay/49/6k5v5t05sr3t4kb2qq
Before we announce all the winners, we want to celebrate our First Prize Winners across all three age categories. Congratulations to Holly Backhouse, Isabel Tran and Eloi Grace!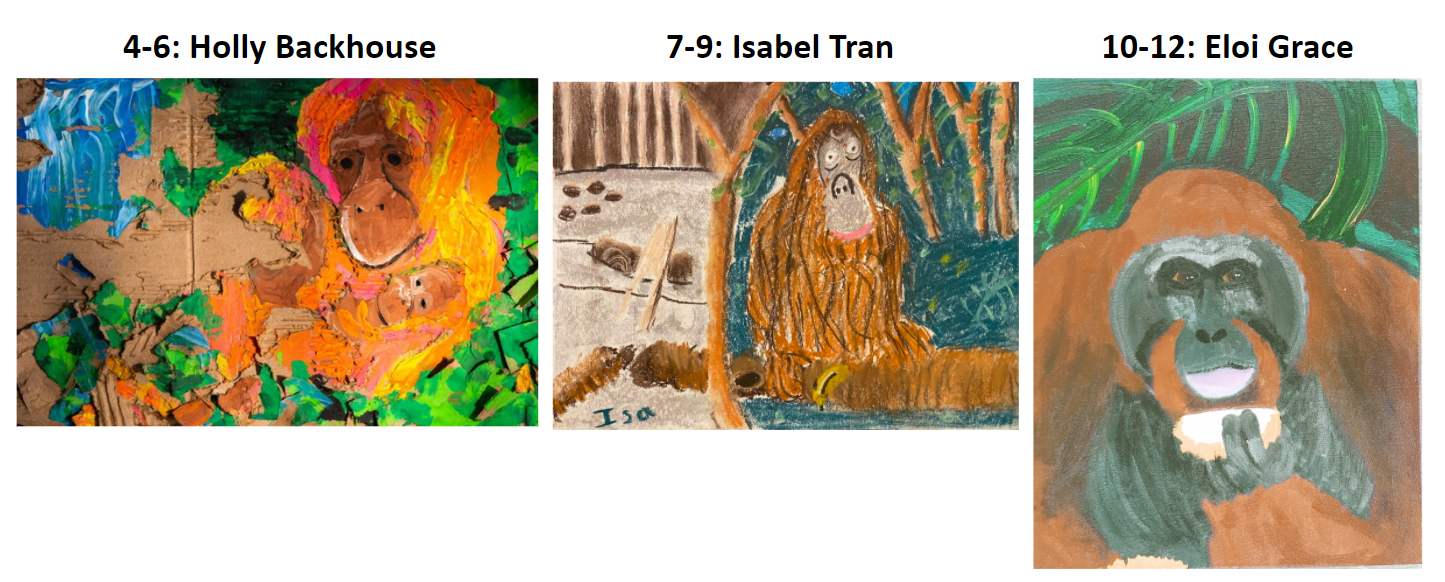 HUGE congratulations to all artists and THANK YOU to everyone who helped make this possible.
Our judging panel was made up of passionate artists who have been in the industry for a long time. They were so impressed with the high quality artwork and had a really difficult time choosing the winners.
On Wednesday 8 December we held our Prize Ceremony, announcing the winners of the First, Second and Third Prizes, as well as Special Mentions and School Prizes.
Kylie Bullo, our Conservation Project Manager joined us to share facts and stories about orangutans and to discuss how The Orangutan Project is saving orangutans, rainforests and other wildlife.
Thank you to the parents, grandparents, guardians and friends who entered these young artists. Thank you to our judges Ben Pearmain, Camila and Chris from Eggpicnic, Emma Quay and Tracey McIrvine for giving their time and donating artwork and books for our prizes.
We are also incredibly grateful to our fabulous volunteers who dedicate so much of their time and energy to help us raise funds and awareness. Our volunteers contacted schools, encouraged friends and family to enter, and shared messages on email and social media. They managed the registrations, filled out spreadsheets, and saved artwork for judging. Then they sorted through the hundreds of entries to create Longlists and Shortlists. They are the real heroes because we can't do this without them.
Thank you to our dedicated Orang-Artan volunteers:

Bree McDevitt

Brooke Crismale

Conny Durrenmatt

Fiona Connolly

Ina Graf

Helen Manos

Jaz McLennan

Jo McMeekin

Karla Collrick

Lee Thulborn

Rachael Miller

Stephanie Lim
To take a look at the video of the Prize Ceremony, click here: https://event.webinarjam.com/replay/49/6k5v5t05sr3t4kb2qq
Prize Winning Artworks!
Congratulations to all prize winners - you will receive a certificate and an award prize in the mail.
Age 4-6:
First Prize: Holly Backhouse

Second Prize: Elena Hudson

Third Prize: Zakiah Rahim

Judge Tracey McIrvine's Special Mention: Lucy Norris

Judge Emma Quay's Special Mention: Dylan Brakenridge
Age 7-9:
First Prize: Isabel Tran

Second Prize: Saffron Grieve

Third Prize:

Rania Cornea

Judge Ben Pearmain's Special Mention:Taichi Tanaka

TOP Volunteers Special Mention: Elyas Bonne
Age 10-12:
First Prize: Eloi Grace

Second Prize: Kiran Walgamott

Third Prize: Alice Detmold

Judge Eggpicnic's Special Mention: Aiko Deighton

TOP Volunteers Special Mention: Will Taggar
School Awards
Congratulations to our two schools who won the inaugural School Awards, which have been made possible thanks to prize donations from our judges Eggpicnic and Ben Pearmain.
Shortlist Award (awarded to the school who contributed the highest percentage of shortlisted artworks) - awarded to Blackmans Bay Primary School
Fundraising Award (awarded to the school who raised the largest amount of funds through the competition) - awarded to Camberwell Primary School
Below you will see the First, Second and Third Prize Winners for 4-6, 7-9 and 10-12 age groups. Congratulations to these outstanding young artists! (Please note - artworks have been cropped square to fit neatly on the page.)