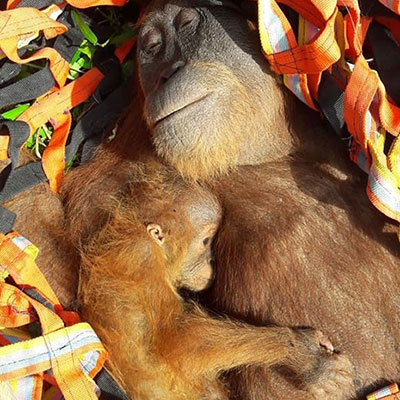 A tragedy is unfolding for Sumatra's orangutans. With more the 80% of the island's natural rainforests gone, Critically Endangered orangutans are fighting for their very existence and they urgently need our help to turn that around.
And with your support, we will.
One of our key partners in Sumatra, the Orangutan Information Centre (OIC) is stepping up their urgent work to rescue stranded, displaced, and illegally captured orangutans and to move them to protected safety.
With our support they've already rescued more than 159 displaced orangutans, but as the situation worsens, the emergency calls increase - and we must act now to support every vulnerable orangutan who needs our help.
We're raising urgent funds to support our partner OIC as they work on the front line to save Sumatran orangutans from life-threatening situations. All funds raised will support the resourcing of their Emergency Response teams, including supplying medical equipment and medicines, all-terrain transport, rescue workers and veterinary personnel.
With your help our partner will also be able to extend their reach into the fragile habitat of the Tapanuli orangutan - the world's rarest and most vulnerable orangutan species.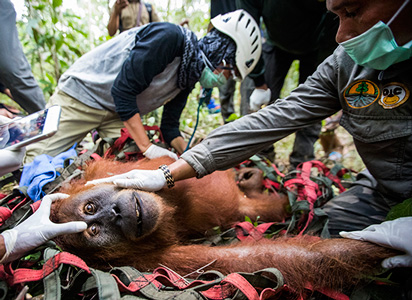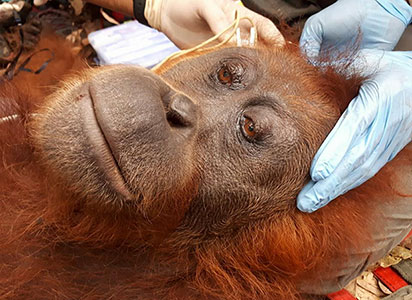 Your donations will also support OIC's community-driven forest restoration program, and their hard-hitting but successful work to reclaim illegal plantations, tear down oil palm and rubber trees, and replant orangutan habitat with native tree species! In just the past few years, they've torn down 15,000 oil palm trees, 5000 rubber trees and replanted more than 800 hectares of natural forest. And with your help, this is just the beginning!
How do you regrow a rainforest?
Our partner OIC has been pioneering a forest restoration program on degraded land in the Leuser ecosystem since 2008 where over 1,500 hectares of High Conservation Value forest, forming part of the globally significant Leuser Ecosystem, was illegally cleared for plantation development. This programme is the first of its kind in Sumatra, and they work in close collaboration with national park authorities and local people to replant within the park itself, aiming to undo damage caused through illegal large-scale conversion of forest into plantation agriculture.
Each hectare of degraded land is planted with approximately 1,100 seedlings of 20-30 different tree species, with an initial priority of planting fast-growing pioneer species in order to 'recapture' the forest canopy. This is a vital component of the regeneration process, with the emerging canopy cover providing crucial shade to out-compete the aggressive and fire-prone 'Blady Grass' (Imperata cylindrica). Falling leaves and twigs quickly revitalize the degraded soil biota, as a host of underground microbial activity soon create the ideal conditions for new forest seedlings to take root. As pioneer species begin to fruit, 'seed-dispersing' rainforest birds and mammals are attracted to the new food source within the emerging forest, bringing with them seed from plants they've consumed, diversifying the regeneration of the entire ecological community.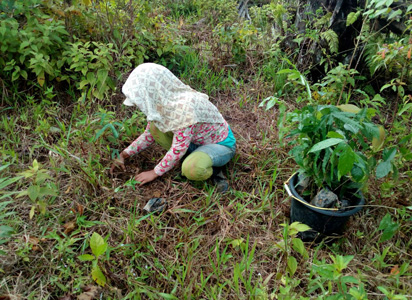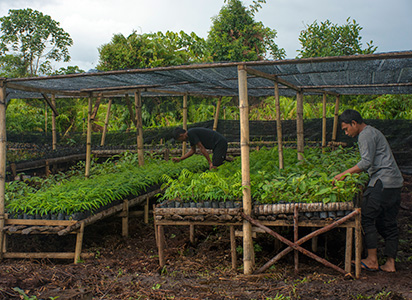 The natural process of species succession in a regenerating forest, as a response to disturbance or degradation, is an ecological mechanism that has evolved over millions of years where specific species play a unique role in regenerating the ecological conditions for a healthy and resilient forest system. Despite the massive scale of destruction in such a short space of time, it is a testament to nature that when the right conditions are recreated, that the ecosystem can flourish once again.
This project has created a significant shift in the mindset of the local community in understanding the need to sustain and protect the forests from illegal encroachment; not only because the ecosystem has been granted full legal protection by the Indonesian government, but also to sustain the valuable ecological services that forests freely provide, which are essential for the daily lives of both wildlife and people. In addition, local people participate in useful training and capacity-building exercises in support of the restoration work, including tree nursery development, improved planting methodology, planting maintenance, and the financial benefit of receiving a stipend for program-related assistance. As well as helping restore degraded tracts of forest, the local communities have observed the regional restoration of eco-system services, namely a restoration of the local water table and resilience to drought, previously lost to forest clearing and mono-culture agricultural development.
When their forest is cleared, Critically Endangered orangutans become exposed to poachers and the illegal wildlife trade. Your gifts today will provide immediate assistance to displaced orangutans and will help us reclaim illegally logged land and replant their rainforest!
Better still, if you can make your gift a regular, monthly donation, we can make sure this game-changing work continues into the future - so thank you!