Orang-Artan Competition for the wild child in your life!
It can be hard to colour inside the lines… but so is learning how to make a nest!
Do you have a wild child climbing the walls? Are you a teacher who loves art, science, conservation or all of the above? You're invited to take part in our first ever Orang-Artan Competition! At the same time, you'll be helping young orangutans learn how to climb, build nests, and forage for food in the forest - they learn through play and exploration just like young humans.
With three age ranges and cool prizes to be won, any child aged 3 to 11 can put on their creative cap, choose their favourite colours, and go wild! Read on to find out how to register an individual Wild Child or a Class Group of up to 30 students. Let's do it for the orangutans!
Orang-Artan Competition - How does it work?
Register your child or students using the relevant links below:

$5 in Australia, NZ and Canada, $4 in the US, €3 in Europe, and £3 in the UK for your Wild Child or

$75 in Australia, NZ and Canada, $60 in the US, €45 in Europe, and £45 in the UK for a Class Group of up to 30 students

We'll send you guidelines based on your child's / students' age so they can start making orang-art!

For younger age groups, you'll need to download and print the colouring-in pages

Make sure you follow us on Facebook or Instagram to see tons of photos of orangutans and updates about the competition
We'll send you a couple of email reminders in September - we know life can get a bit busy
Submit your child's or students' artwork via email at competition@orangutan.org.au by 5pm on Wednesday 30 September (Australian Eastern Standard Time)
We'll announce the shortlist by mid-October via email and social media
Our three well-known judges will assess the shortlists in each category and agree on the final winners
We'll announce winners in all three age categories at a special live-streamed ceremony during Orangutan Caring Week in November - and you'll all be invited!
Teachers, if you'd like to register more than one class or even a whole school, we'd be delighted to hear from you. Email us at competition@orangutan.org.au and we'll be in touch to discuss.
How your registration fee helps these wild people of the forest…
Young orangutans usually stay with their mums in the wild until they're 8 or 9 years of age. They learn everything they need to know about how to survive from their mum - like how to climb trees, what food to eat, and how to swing through the forest. So when an orangutan's mother dies, the baby doesn't know any of these things.
This is why orphans like Citrawan need help to learn all the skills they need for a long, healthy life. When she was only 11 months old, Citrawan was smuggled from Sumatra, inside a bag. She was one of the lucky ones when she was rescued.
Popi, pictured in the middle, was confiscated from captivity in 2016 when she was only eight weeks old. She has come a long way since that time, and is now more independent and learning how to build her own nest! She paused in her nest-building in this photo to say hi to the camera.
Our third little star is Cupcake, showing off his nest-building skills in this photo. He's one of the lucky ones - he's still with his mother and is learning everything from her. His mother, Sam, was living in protected forest in the Bukit Tigapuluh ecosystem in Sumatra when she became pregnant to a wild orangutan.
Your fee will help all of these orangutans - and more - to become independent, learn the skills they need to survive, and help build up the populations of wild orangutans in the forest!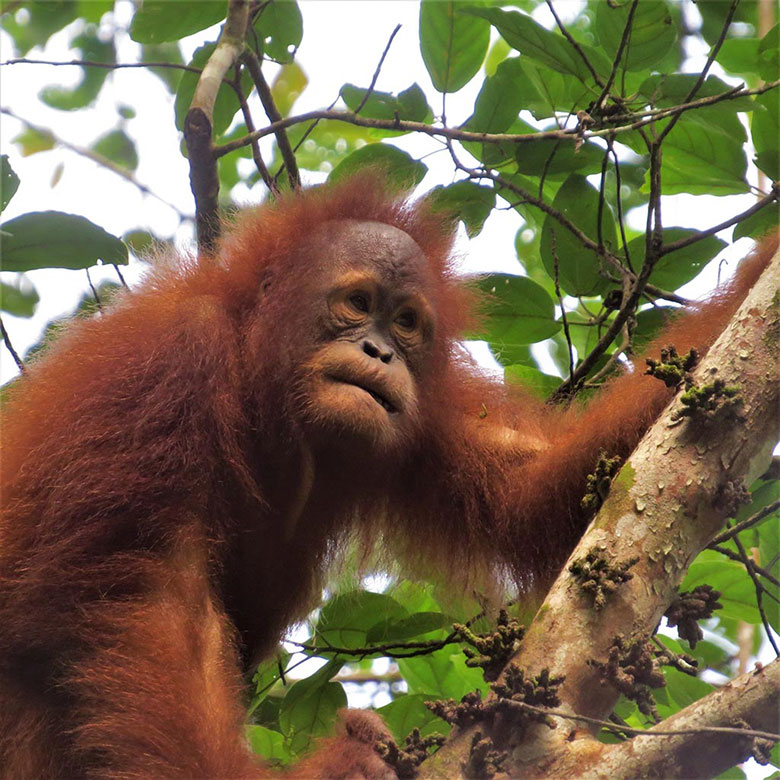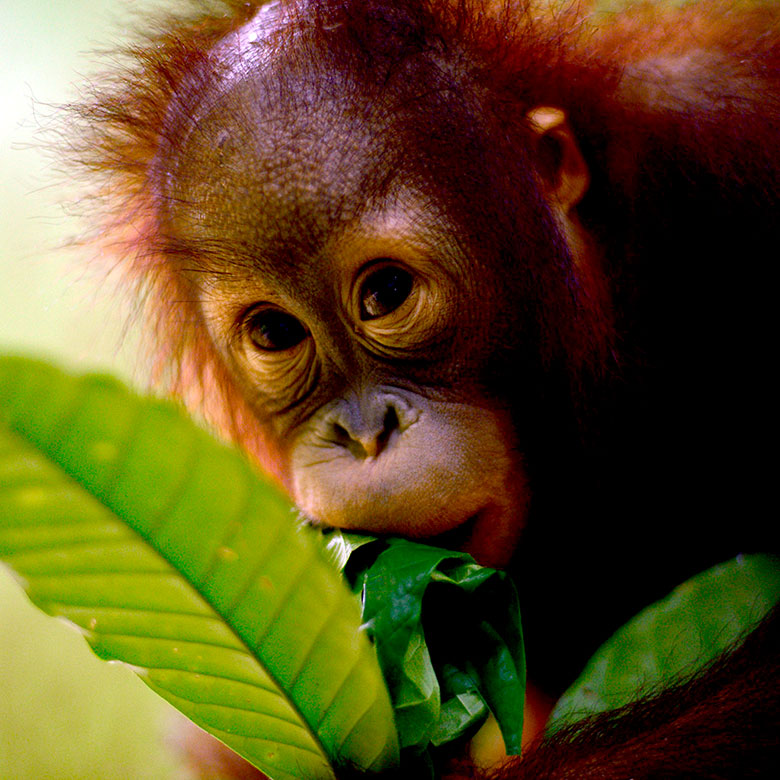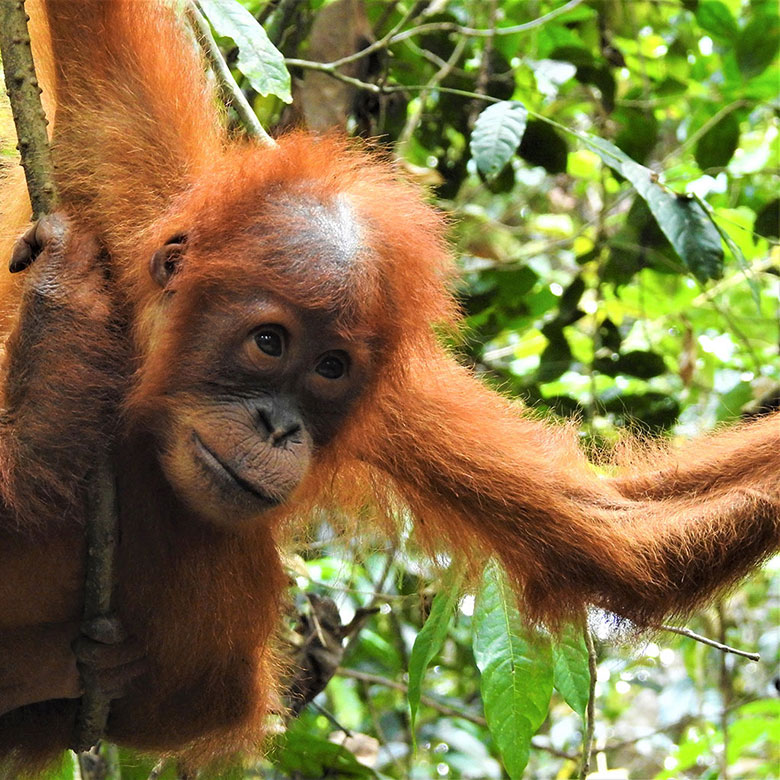 Orang-Artan Judges
Meet our panel of professional judges! We're so excited these professional illustrators and artists are judging the final shortlist in all age categories. Our judges have published and illustrated books and they're all passionate about children's art, nature and orangutans!
Max Hamilton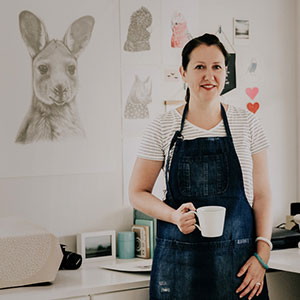 Max Hamilton is an award-winning illustrator, graphic designer and most enthusiastically a maker of children's books. She enjoys noticing the little details in things, loves to get lost in the world of illustration and stories, and through her art aims to raise awareness of the importance of protecting our Australian fauna. Max Hamilton has been drawing since she started kindergarten, when the teacher asked the children to draw a picture of what they wanted to be when they grew up. While the rest of the class drew firemen, teachers and doctors, Max drew a picture of her drawing a picture.
Max lives in Sydney with her partner, two young daughters and a couple of guinea pigs named Dumpling and Noodles. You can follow her on Instagram and check out her illustrations and artwork here, or purchase her beautiful debut children's book, My Possum Plays the Drums, which has been shortlisted for a national Australian award. A signed copy of this book will form part of the First Prize in the 3-5 age group.
Ben Pearmain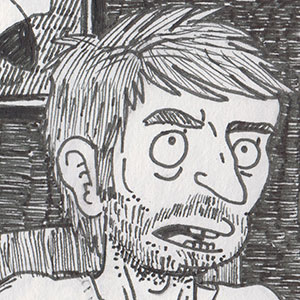 Ben is an illustrator and kid's creative writing tutor from Melbourne. He has worked on children's book covers, band posters, logo design, typography, zines and comics. He's also animated a comedy series and a music video and helped design an e-learning program for Deakin University. Ben is a keen amateur naturalist who has been fascinated with apes since childhood and counts seeing real wild orangutans in Borneo as one of the most amazing experiences of his life.
Ben is contributing a brand new piece of artwork of a male orangutan, which he has drawn especially for our inaugural Orang-Artan Competition. This one-of-a-kind picture will form part of the First Prize in our 9-11 age group. You can check out Ben's artwork at here and follow him on Facebook or Instagram.
Emma Quay
Emma Quay is an illustrator and writer of many award-winning picture books; her memorable characters for My Sunbeam Baby, Rudie Nudie, Baby Bedtime, Shrieking Violet, Bear and Chook, Daddy's Cheeky Monkey, Good Night, Me and Scarlett, Starlet are favourites on children's bookshelves all over Australia. Her brand-new title for young children, Rudie Nudie Christmas, will be released in October 2020.
Emma grew up in the English countryside and has wanted to illustrate children's books for as long as she can remember. She works from a studio in her home and sometimes feels like she barely leaves it, but her illustrative work is held in collections around the world, including the permanent collection of the Victoria and Albert Museum, London. You can read more about Emma and on her website at or follow her on Facebook or Instagram. Goodnight, Me, illustrated by Emma, forms part of our First Prize in the 3-5 age group.
Eggpicnic (Camila & Chris)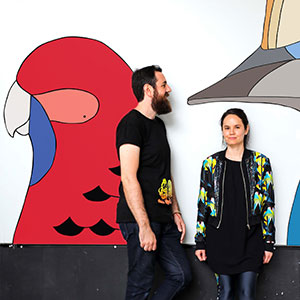 Eggpicnic is a Sydney-based design studio devoted to wildlife conservation set up by designers and birders, Camila De Gregorio and Christopher Macaluso. They produce fine art prints and public art to end wildlife extinction through education. Creating characters that tread a fine-line between art and design, they aim to capture the beauty of the natural world with the hope of inspiring others to protect it. They actively support conservation programs, with profits from their work donated to support scientific research.
Simple yet striking, their work has been transformed into large-scale public art by the City of Sydney, in Sydney Olympic Park and Bondi Beach, bringing nature back into the urban environment. In 2019 they were recognised for their artistic excellence by the Sydney Opera House, becoming the first winners of their Uncovered Program, with their work selected as the best in the category of Prints, Photography and Art. They work with local and international scientists, with their work exhibited in New York in 2019 as part of New York Audubon's Summer Exhibition and at The Royal Botanic Garden Sydney in 2019 and 2020. They take part in Key Biodiversity Area surveys, helping to collect data on the ground for research and policy implementation purposes. Their collection features over 200 species of Australian birds including Australia's critically endangered, vulnerable and iconic fauna. You can read more about Eggpicnic and see their gorgeous illustrations at their website or follow them on Facebook or Instagram.
Competition Terms & Conditions
Individual Wild Child registration fee is $5 in Australia, NZ and Canada, $4 in the US, €3 in Europe, and £3 in the UK and must be paid in advance

You can register more than one child by paying a separate fee for each child

Class Group registration fee is $75 in Australia, NZ and Canada, $60 in the US, €45 in Europe, and £45 in the UK and needs to be paid in advance.

Please submit only one piece of artwork per child

Submissions open from Wednesday 19 August and close 5pm Wednesday 30 September (AEST)

All artwork must be either a scan or a good photograph saved as PDF or jpeg

All artwork must be submitted via email to competition@orangutan.org.au by 5pm on 30 September (Australian Eastern Standard Time)

Class Group artwork can be submitted via email or by sharing a Google Folder

The shortlist will be judged by professional artists / illustrators

The judges' decisions are final

Children of The Orangutan Project volunteers are permitted to enter, unless the volunteer is one of the judges

Children of The Orangutan Project staff and Board members are not permitted to enter the competition
Guidelines for the 'free art' category (ideal for ages 9 to 11):
Artwork must be on the theme 'wildlife conservation'

Artwork must be on an A4 piece of paper - something you can send in the post if they're shortlisted (so no mosaics or 3D art!)

Artwork must be scanned or photographed for submission
Younger age groups are welcome to submit 'free' artwork, which we will judge separately from the colouring-in pages.
Prizes - more still to be announced!
Art pad and pencil sets

Orangutan artwork created by professional artists

Cute cuddly orangutan toys

Certificate for children to print out
We will award prizes for winners in each age group. Stay tuned by following us on Facebook or Instagram as we'll be announcing even more prizes!